Nokia Lumia & Windows 8
Exclusive camera technology, iconic Live Tiles and unique design features. Meet the latest additions to the Lumia family, powered by Windows Phone 8.
Nokia and Microsoft merge both their expertise into the brilliant Nokia Lumia range. Running Windows Phone 8, they boast cool features such as wireless charging and PureView camera technology. Their high contrast, super-sensitive displays means you can use them with gloves on (depending on the model) and they all come with superb Nokia apps built in such as Nokia Drive; this gives you offline turn-by-turn navigation. The Windows 8 operating system is intuitive and gorgeous, vivid Live Tiles offer real-time updates at a glance of you Lumia. Organise yourself better with the People Hub and consolidate all your emails into one place, make your Lumia child friendly with the Kid's Corner feature or control your Xbox 360 from your device with the SmartGlass app.
Whatever your budget, you can find a Nokia Lumia that's right for you. From the affordable Lumia 520, to the high end 920 they all share the same incredible Nokia apps and come in a range of bright colours. In a market bloated with uninspired handsets, the Lumia range is a breath of fresh air so it's easy to make the #switch.
Nokia Lumia JBL Speakers
Available in bright Lumia-esque colours, the JBL Powerup and PlayUp speakers both pack Bluetooth NFC and Qi charging. This means pairing your device is easy and you can pump your tunes whilst charging your phone all without a pesky cable.
Minimalist design, zero configuration, the PowerUp is wonderfully convenient. Tap your NFC enabled phone on the speaker and you're done. As it uses Bluetooth 2.1 you can connect with any other Bluetooth enabled device. Acoustic engineering from JBL offers 100W of superb sound. Plonk this in your living room, kitchen or bed-side table and enjoy rich sounds fill your space. It needs to be plugged in at a wall socket but has Qi charging. This allows you to charge the Nokia Lumia 920, Lumia 820 or any other Qi device just by laying it flat on top of the charging plate. This charges at 75%, the same rate as when you charge your phone via USB cable in your computer. It will even charge if the speaker is turned off, put it on the top plate and the landing lights flick on.
If you're looking for a more portable speaker then the PlayUp is your answer. The punchy 51W speaker delivers 360° sound wherever you are. It has a 10 hour rechargeable battery (removable) so you can take it with you on the go. Bluetooth NFC is on board so all you have to do is tap your device. There's a 3.5mm cable smartly concealed on the bottom lid so you can play music directly from a headphone jack.
Both speakers are available from Expansys.
City Lens
Nokia HERE City Lens is an application available exclusively on Lumia phones that helps you find places of interest and explore cities. Hold your Lumia up and it displays dynamic visuals - through augmented reality – that provide you with information of your surroundings. Live AR (augmented reality) is a really fun and exciting way of discovering new places to go, eat or sleep. You can find shops, hotels, restaurants, theatres, gigs, cinemas, sights and museums all by pointing your phone's camera in whatever direction you want to go.
Nokia City Lens is powered by Microsoft Bing Maps which gives you access to information. Press onto a place of interest and you are given user reviews, photos, opening times and other useful information. A clever feature is the way it ties with Nokia Maps and Nokia Drive. It will give you directions on how to get there. You can share places easily with friends as well and can even pin place onto your start screen as a live tile.
Overwhelmed by the information? You can change the range of the view finder to Sightline so places only right in front of you are visible; in a busy city for example. Turn your phone 45° and place will appear in a list format. Or, if you hold your Lumia completely flat it will appear as a Map view.
Nokia Maps
Nokia Maps is a superb navigation app specifically designed for when on foot and taking public transport. Available on all Nokia Lumia devices only, Nokia Maps helps you discover the world around you and gives you directions. It can work fully offline – something no other map service can do.
Nokia Maps has public transport routes for over 450 cities around the world and maps for nearly 200 countries. Type in where you want to go for A to B, turn-by-turn walking directions with integrated public transport information. Your Lumia can tell you the number of the bus to hop on and which Underground train line to ride on to reach your destination. It shows you shortcuts through parks, public buildings and footpaths for the quickest route. Points of interest indoors such as cash machines, toilets, elevators etc. are all available on your device as well.
You can pin places onto your Start screen for quick access. Pin your home or office to the Start screen for example and always find the best route back whether you're driving or walking. On top of this, it seamlessly integrates with Nokia Drive so you can hop in your car - or vice versa - on your travels and it will give you turn-by-turn road directions. It even has live traffic updates so you can know which roads to avoid.
Remarkably, Nokia Maps can work 100% offline. If a building blocks your signal you don't have to worry or exploring new cities abroad you don't have to worry about incurring massive roaming costs.
Nokia Music
With no subscription and no fees, Nokia Music is an outstanding free streaming service available exclusively on all Nokia Lumia smartphones. It works straight out of the box (no profile set up required) and has over 17 million songs for you to listen to whenever and wherever you want. Offering music from SonyBMG, Universal Music, EMI and Warner Music Group, you can download them direct to your mobile or purchase them.
Mix Radio is a remarkable feature of Nokia Music that makes it a serious competitor to other music streaming services such as last.fm, Spotify and Soundcloud. Mix Radio are playlists of songs tailored from certain genres that you can listen to for free; for example, New Releases in Pop. Unlike Spotify, there are no adverts between songs and it's a great way of discovering new music. Using create a mix you can select three of your favourite artists and it will formulate a playlist of their songs and artists of a similar genre. You are limited to skipping 6 tracks an hour but the best feature is the make available offline option. This enables you to download entire playlists for offline listening absolutely free – Nokia can offer this for free as they pay for a radio licence. Saving you money by not racking up huge data costs listening to tracks, simply download mixes over a Wi-Fi network. This is great for working out in the gym, when you're going on a long train journey or if you're bored of listening to the same tracks. It also has fantastic album artwork that fills your sharp Lumia screen. You can put your own music onto your Lumia which appears in Nokia Music as well. You can even pin your mixes as a live tile onto the start screen for easy access.
There is a Nokia Store within Nokia Music for if you want to buy MP3 tracks. In there you can search for your favourite artist and download their latest album or songs at price.
If live music is more your thing then there is the gigs feature. Using your current location, this lists local gigs at venues near to you, telling you when there taking place. You can buy tickets and can even give you the directions through Nokia Maps or turn-by-turn navigation through Nokia Drive – all from within the Nokia Music application.
With Nokia audio accessories you can do those tunes justice. The Nokia cans by Monster compliment the bold colours of the Lumia range while the JBL speakers are great for out and about or in your bedroom.
Qi Wireless Charging
The Nokia Lumia 920 and Nokia Lumia 820 both feature wireless charging. Simply lay your device on a charging plate and your Lumia will charge up without having to be plugged in. The Nokia Fatboy Pillow and Nokia DT-900 power transmission pads use a technology called Qi. Pronounced Chee, Qi inductive charging wirelessly transfers electricity into a Qi enabled device (over distances of up to 4cm). The Lumia 820 requires a charging shell for it to be Qi operable and the flagship Lumia 920 has this feature built in.
Like the Chinese energy it's named after, Qi seamlessly provides power for your smartphone and eliminates battery anxiety. Forget rummaging around for a lanky, kinked, insert-one-way-only micro USB or lightning cable, wireless charging is wonderfully convenient. Simplifying your life, charging plates are ideal for on your bedside table, on your desk in the office or in your kitchen at home. No more worrying about topping up your battery as you just touchdown on top of a plate, it doesn't need to be lined up neatly, as you go about your daily life. It charges at a slightly slower rate than from the mains, around 20% slower, but it's the equivalent of charging your smartphone through your PC or laptop. Nokia's JBL speakers feature Qi charging as well as a host of alarm clocks, video docks, stands and other smartphone accessories.
Qi charging is something people will become more familiar with as the public infrastructure develops. In the same way Wi-Fi hotspots are now standard at most restaurants, trains and public places, so too will Qi charging access points. Virgin Atlantic®, in partnership with Nokia, has provided Qi standard wireless chargers in their airport lounges. While American coffee chain The Coffee Bean & Tea Leaf® has charging plates in their coffee houses. As Samsung, Nexus, LG, HTC and others are beginning to integrate Qi into their devices this technology will harmoniously into your life.
The Nokia Lumia 920 and Nokia Lumia 820 are both available from Expansys.
Apps + Games
Quality over quantity is the Windows philosophy when it comes to applications; most of the 130,000 apps available have been built or optimised for Windows 8. These can be downloaded for free or purchased through the Windows Phone Store along with games, music and podcasts onto your Lumia phone.
Windows Phone Store may lack the sheer number of apps in comparison to the Apple App Store (775,000 - 300,000 of which are just for iPad) or Google Play store (800,000) but it makes up for it in their compelling selection. The Skype app, for example, integrates naturally into the Windows Phone experience. It's always on, so your Lumia is ready to receive Skype calls or messages and it merges with your contacts information. This means you can Skype someone directly from their contact card, no need to open the app. Facebook and Twitter have been designed with Windows 8 in mind. Notifications and pictures appear on your lock screen so you can stay in the loop at a glance. They can also be embedded on your home screen in the new Windows 8 tile sizes.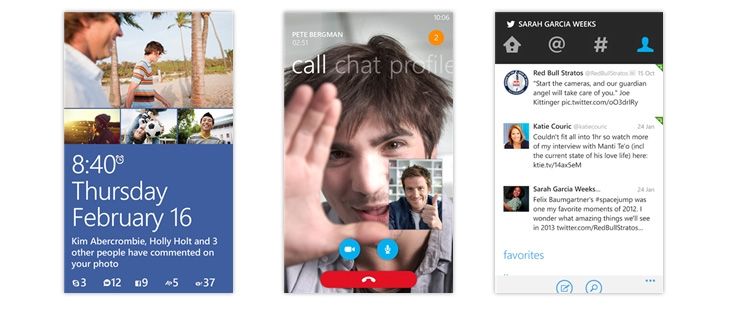 All your favourite apps can be found on the Windows Phone Store. Draw Something, PayPal, Words with Friends, Temple Run, Angry Birds, Cut the Rope, Urbanspoon, WhatsApp, Netflix, NatWest Banking and more recently BBC iPlayer are all available to download. You can also get exclusive apps such as Superman Man of Steel and Angry Birds Roost. Apps are categorized into 6 tiles for easy browsing - Top free, New + Rising, Top paid, Best-rated and Collections. Picks For You selects apps you would appreciate due to your previous downloads or if your friends have liked them.
Don't forget the fantastic Nokia apps that come pre-installed onto your Lumia device that enhance your smartphone experience. HERE Transit, HERE Drive and HERE Maps are offline, turn-by-turn navigation solutions that gives you seamless door-to-door guidance. Whether you're walking, driving your car or using public transport it will tell you how to reach your destination. As it works offline you don't need to incur costly data charges like with Google Maps. Just Pre-load the maps before you go abroad or start your journey. Create truly amazing images with Nokia Creative Studio, Smart Shoot and Cinemagraph. Explore the world around you with City Lens, an app that augments reality to show you museums, restaurants and other cool places to visit.
Your Lumia has access to Microsoft's selection of Xbox mobile games. You can purchase and download great official Xbox mobile titles such as Asphalt 7 Heat, Farm Frenzy 2 and Kinectimals. Sign into your Xbox Live account and accumulate Gamerscore points by playing games on your Lumia. You can navigate your Xbox 360 on your Lumia using the Xbox SmartGlass app - writing messages on you Xbox is a doddle as you can use your Lumia's keyboard. Microsoft also throws in the valuable Microsoft Office application for free on Lumia phones.
Windows 8 Blog
If you're one of the 1 billion Microsoft Office user's in the world then you'll love a Nokia Lumia smartphone. All Lumia smartphones come with Microsoft Outlook and Microsoft Office pre-installed. You can create and share PowerPoint presentations or edit Word and Excel documents just like you would on a PC.
One Note, Sky Drive, Internet Explorer, Lync & SharePoint come straight out of the box as well. Through SkyDrive (Microsoft's Cloud storage service) you can share files from your PC, tablet and phone – thus turning your smartphone into an extension of your PC and vice versa. No more worrying about device storage limitation, synchronisation or backup. The only difference between Internet Explorer on your PC or Lumia is that when you browse web pages you can set the browser to not show high resolution images to save you mobile data. Nokia Drive is also pre-installed, a turn-by-turn voice guided navigation that works without 3G. Save costly roaming fees abroad and find your way anywhere your business takes you.
Thanks to Microsoft buying Skype, it is now integrated onto contact cards on your phone. This means you can make Skype calls easily to your colleagues which is a savvy way of keeping your phone bill down. Just download the free app from the Windows Phone Store. The Facebook and Twitter apps are both designed for Windows 8, offering deep integration onto your Lumia device. This is another way of staying in the loop and collaborating.
Nokia's brilliant hardware and modern design make the Lumia range a complete business package. Using durable and scratchproof polycarbonate, you can rest assure your Lumia will stay looking impressive. Smart features such as Qi wireless charging helps you stay on top of your smartphones battery, this comes built in the 920 or a Qi operable back cover is needed for the 820, 720 or new 925. While built-in noise cancellation also provides clear voice calls.
Buy Nokia Phones
Buy Nokia Accessories